PaceSetter Gas Furnaces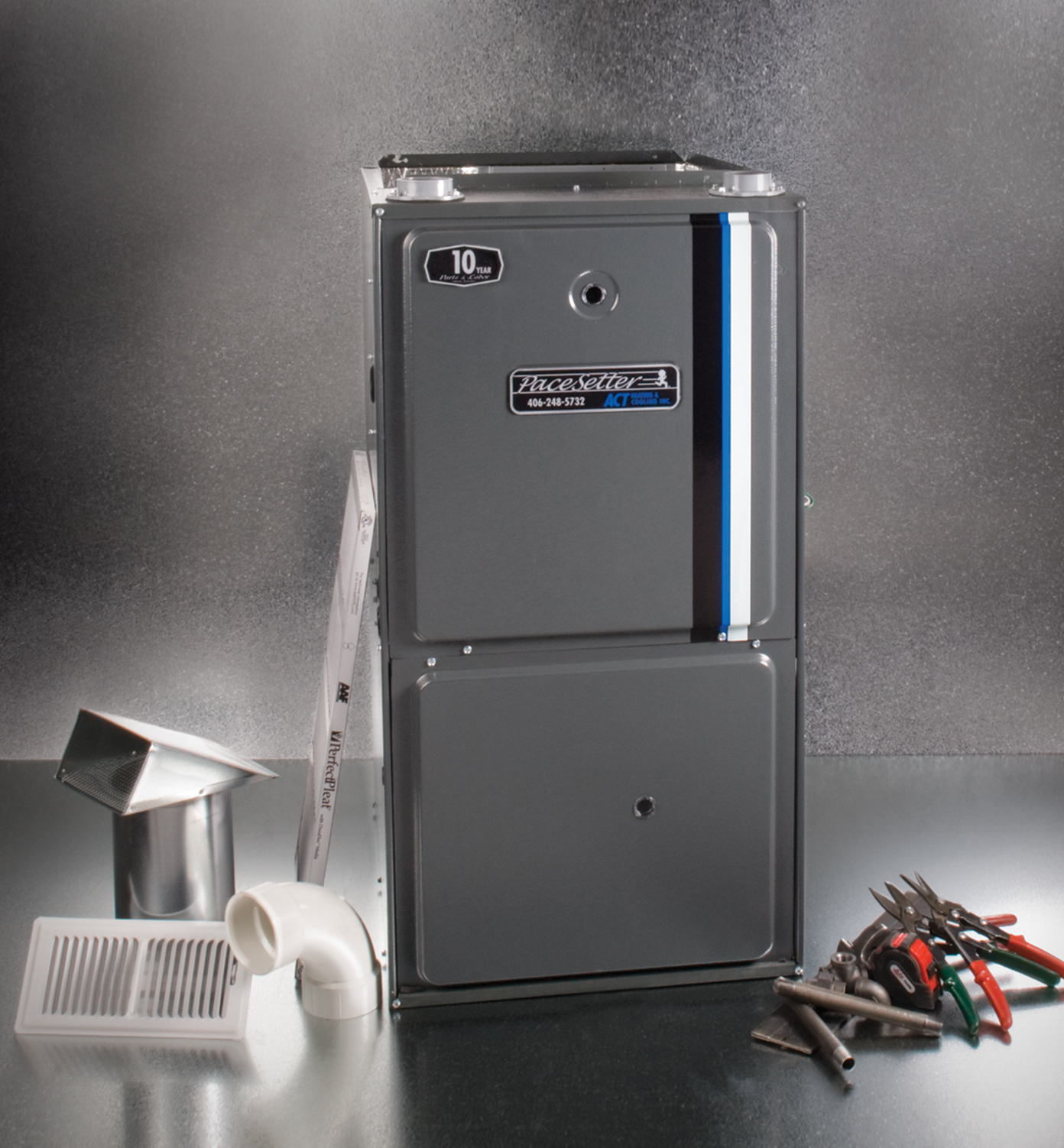 When you invest in a PaceSetter Gas Furnace, you are purchasing long-lasting comfort at an affordable price. PaceSetter Gas Furnaces are designed to provide you with years of quiet, high-efficiency, trouble-free service. Generating significant cost savings for you, compared to lower AFUE (Annualized Fuel Utilization Efficiency) units.
PaceSetter Furnaces are manufactured with quality components. These features include a quiet corrosion-resistant, induced-draft blower motor as well as a durable Silicon Nitride Ignition System with integrated controls and diagnostics.
Unlike conventional, single-stage furnace technology, PaceSetter's Two-Stage Gas Valve Technology helps eliminate the temperature swings (that result from abrupt, high-stage stop-and-start of the furnace) by operating at a low heating stage the majority of the time. This enables your PaceSetter Gas Furnace to gradually increase the temperature of your home environment; however, if low-stage heating doesn't warm your home to the desired temperature quickly enough, your unit will automatically shift into high-stage to ensure your comfort.
Exceptional Warranties
With exceptional materials, engineering, and workmanship that are part of every Pacesetter product, we confidently back our furnaces with reassuringly strong warranties. A testimony to our faith in the quality of this product, the Pacesetter furnaces are protected with a 10-Year Parts and Labor Limited Warranty on all functional parts for as long as you own the home.
Furnace Models
---
Deluxe 96 Heat
96.1% AFUE, Energy Star Designation
Lifetime Heat Exchanger Limited Warranty for as long as you own your home
10-Year Unit Replacement Heat Exchanger Limited Warranty for as Long as Your Own the Home
10-Year Parts Limited Warranty
10-Year Labor Limited Warranty
Stainless-Steel Tubular Heat Exchanger and Stainless-Steel Recuperative Coil
Quiet, Comfortable Two-Stage Heating Gas Valve and Two-Speed Induced Draft Blower
Durable Silicon Nitride Igniter
Integrated Furnace Control with Diagnostics
Fully Insulated Cabinet with Baked-Enamel Finish
Energy-Efficient, Multi-Speed ECM Blower Motor Users 40% Less Energy
---
Premium 96 Heat
96.1% AFUE
Lifetime Heat Exchanger Limited Warranty for as Long as You Own the Home
10-Year Unit Replacement Heat Exchanger Limited Warranty for as Long as Your Own the Home
10-Year Parts Limited Warranty
10-Year Labor Limited Warranty
Stainless-Steel Heat Exchanger and Stainless Steel Recuperative Coil
Energy-Saving Silicon Nitride Ignition System
Quiet, Comfortable Two-Stage Heating Gas Valve and Two-Speed Inducer-Draft Blower
Integrated Furnace Control with Diagnostics
Fully Insulated Cabinet with Baked-Enamel Finish
Variable-Speed, Direct-Drive ECM (Electronically Commutated Motor) Blower Motor
ECM Blower Motor Uses 75% Less Electricity than a Multi-Speed Furnace
---
Basic 80
80% AFUE
Lifetime Heat Exchanger Limited Warranty for as long as you own your home
10-Year Unit Replacement Heat Exchanger Limited Warranty as Long as Your Own the Home
10-Year Parts Limited Warranty
10-Year Labor Limited Warranty
Stainless-Steel Tubular Heat Exchanger
Durable Silicon Nitride Igniter
Integrated Furnace Control with Diagnostics
Fully Insulated Cabinet with Baked-Enamel Finish
Energy-Efficient, Multi-Speed ECM Blower Motor Uses 40% Less Electricity