PaceSetter Air Conditioners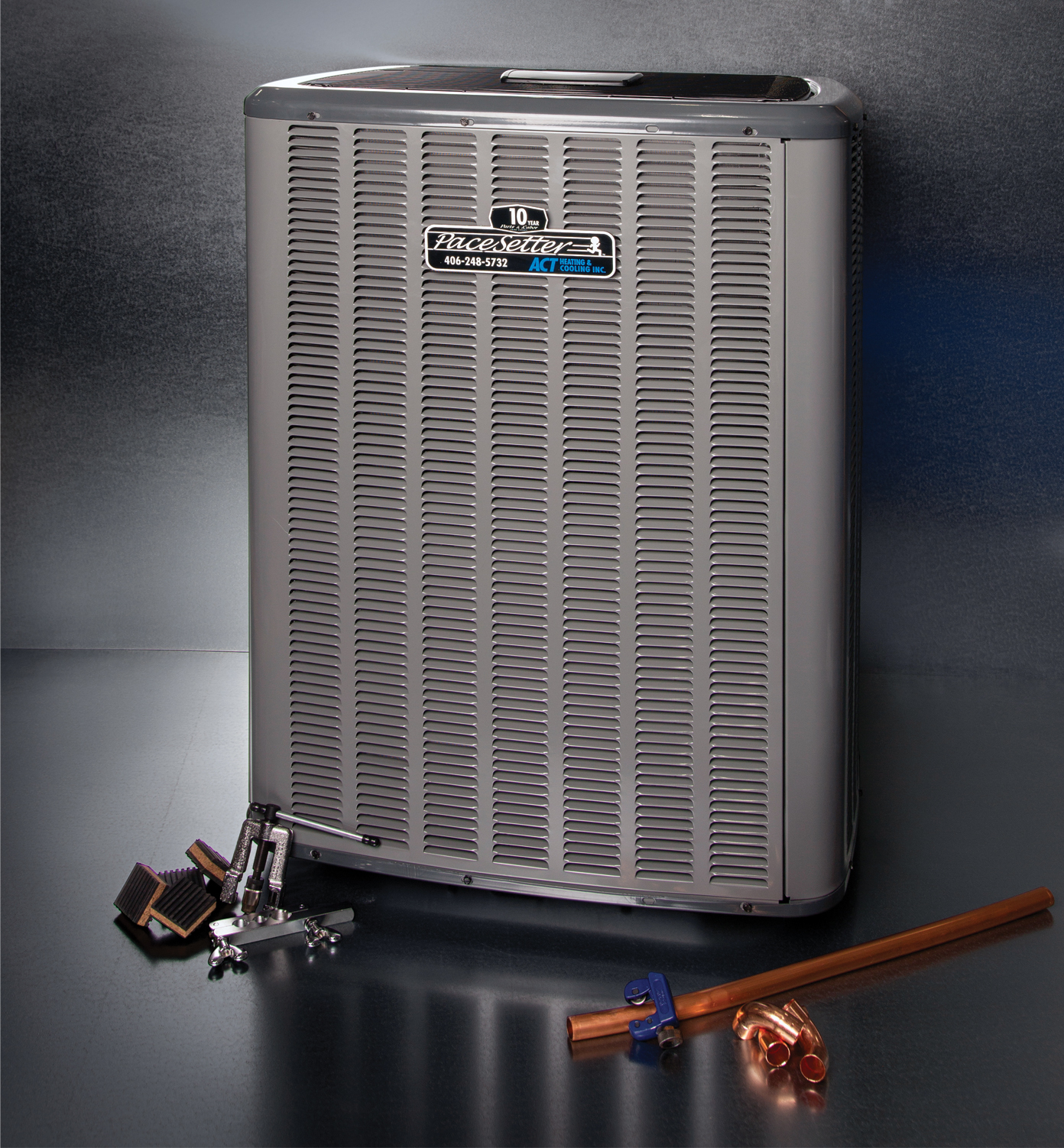 Investment in a PaceSetter Air Conditioner will provide long-lasting comfort at an affordable price. Your PaceSetter High-Efficiency Air Conditioner is designed to provide you with years of quiet, trouble-free cooling and cost savings (uses less electricity), as compared to lower SEER (Seasonal Energy Efficiency Ratio) units.
Our durable, energy-efficient PaceSetter Air Conditioners are manufactured with high-quality components. The unit's sound-control top helps ensure quiet, vibration-free operation. The high-efficiency condensing coil is manufactured with high-quality refrigeration-grade copper tubing and aluminum fins in a design that maximizes surface area.
Exceptional Warranties
With the exceptional materials, engineering, and workmanship that are part of every PaceSetter product, we confidently back up our Air Conditioners with reassuringly strong warranties. A testimony to our faith in the quality of this product, the PaceSetter Air Conditioners are protected with a 10-Year Parts and Labor Limited Warranty on all functional parts for as long as you own the home.
PaceSetter Air Conditioner Models
---
Premium 16 Cooling
16 SEER
Lifetime Compressor Part Warranty for as long as you own your home
10-Year Parts Limited Warranty
10-Year Labor Limited Warranty
10-Year Limited Warranty Unit Replacement if Compressor Fails as Long as You Own Your Home
Chlorine-free R-410A Refrigerant (environmentally friendly)
High Efficiency Scroll Compressor
High-Density Foam Compressor Sound Blanket
High-Low Pressure Switches
Factory-Installed Liquid-Line Filter Dryer
Super Quiet Condenser Fan Motor with Advanced Fan Design
AHRI (Air Conditioning, Heating, and Refrigeration Institute) Certified; ETL (Electrical Testing Laboratories) Listed
Sound Control Wire Fan Discharge Grille and Steel Louver Coil Cover
TX Valve for Precise Refrigerant Flow Control
High-Efficiency Condenser Coil made of 5mm Refrigeration-Grade Copper Tubing and Aluminum Fins Condenser Coil
Average Unit Decibels 72
---
Deluxe 14 Cooling
14 SEER
10-Year Parts Limited Warranty
10-Year Labor Limited Warranty
Chlorine-free R-410A Refrigerant (environmentally friendly)
High Efficiency Scroll Compressor
High-Low Pressure Switches
High-Efficiency Condenser Coil made of 5mm Refrigeration-Grade Copper Tubing and Aluminum Fin Condenser Coil
An In-Line Filter Dryer
AHRI Certified; ETL Listed
Super Quiet Condenser Fan Motor with Advanced Fan Design
Louvered Cabinet made of Steel
Average Unit Decibels: 72
---
Basic 13 Cooling
13 SEER
10-Year Parts Limited Warranty
10-Year Labor Limited Warranty
Chlorine-free R-410A Refrigerant (environmentally friendly)
High-Performance, Scroll Compressor
High-Efficiency Condenser Coil made of 5mm Refrigeration-Grade Copper Tubing and Aluminum Fin Conderser Coil
An In-Line Filter Dryer
AHRI Certified; ETL Listed
Super quiet Condenser Fan Motor with Advanced Fan Design
Louvered Cabinet made of Steel
Average Unit Decibels: 73